Time point selection.

In scan mode the time points are selected by filling out a table (se figure below). The contain between one and ten linear time regions each with its own time step length followed by a logarithmic time region. All time points are relative to time zero, which is the between the optical time zero and the mechanical time zero of the delay line (end switch).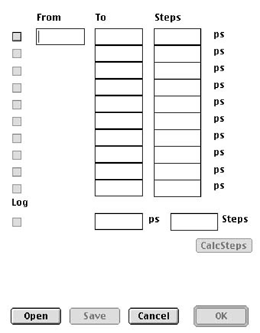 In sweep mode only the first and the last time point are used to define the sweep interval or a number of sweep interval are given in the sweep setting dialog.